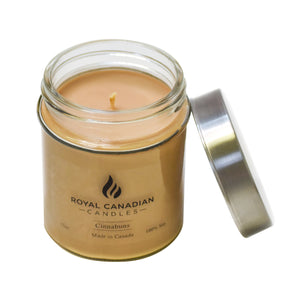 Cinnabuns
Thats right..we went there.  Why not enjoy the amazing smell of fresh Cinnamon rolls with out the calories that go with them.
We have not changed our design, only added a new twist.  We still have the ever popular buttery richness and warm cinnamon but have now added the sweetness of creamy vanilla to the fold.
Is this a gift for someone? Let us know.   When you choose our gift wrapping option we will make sure your gift is one to be remembered  Don't forget to let us know the occasion and any special thoughts you may have.
Customer Reviews
01/30/2017
Amazing smell
Candle smells really good and ring is pretty but its missing a stone
12/28/2016
Very fragrant Cinnabuns, delicious!
I liked the packaging at the time of getting the product, it really burns a long time and has a very enjoyable smell to it. I will be ordering more in the future, I think I found the candles I really like!
12/21/2016
Exceptional Customer service!!!
I ordered this candle as a christmas gift. It smells amazing as is. I can only imagine what it will smell like once lit. The wrong ring size was shipped but this amazing company went above and beyond to make sure I got the right ring size so that I can still give this as a christmas gift. I will definitely be ordering more from them!!
06/26/2016
Very inviting aroma
The Cinnabon sensed candle was nicely sensed with out been over bearing. It definitely smell like cinnamon buns with the sweet distinction of brown sugar and Cinnamon. I would definitely buy this on again.
06/26/2016
wow !!!
Really smell like if you were in a bakery. My favorite.