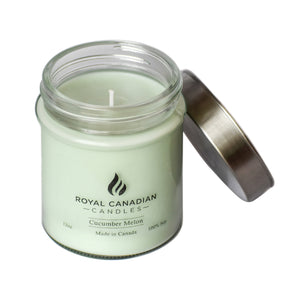 Cucumber Melon
As soon as you cut into a fresh melon you are greeted with its sweet aroma.  To boost the sweetness we took it to the next level and brought in the earthiness of a  cucumber  blend to make this candle fresh, clean and suitable for any room in the house.
Customer Reviews
02/12/2016
Love, love Royal Canadian Candles
I chose the cucumber melon candle and it is well worth it. It is not overpowering, very relaxing. I love my ring. I have nothing but the highest praise for Royal Canadian Candles and recommended them to all my family and friends.
01/13/2016
I love your Candles
After all the hype over the holidays, I decided to see what everyone was raving about. I bought your Cucumber Melon 12oz. candle and couldn't wait to light the wick! It burned for approx. 1.5hrs before the foil appeared. I was so excited while opening my surprise! My ring is gorgeous, and I thoroughly enjoy my candle. I have since ordered one for my daughter. They make great gifts!